The PAN Verification API is a technology-driven method for KYC verification. KYC or "Know Your Customer" is a set of guidelines introduced in 2002 by the RBI to protect financial institutions from fraud, corruption, money laundering, and terrorist financing. It is a mandatory process for authenticating a customer's identity and verifying it with pre-existing documents in the government database. The PAN verification API is one of the quickest and most efficient ways to complete the digital KYC process without a registered KYC official or third party.
The PAN verification API is a simple process that verifies an individual's identity through online interfaces, such as an Application Programming Interface (API). PAN, which stands for "Permanent Account Number," is a unique 10-digit alphanumeric number issued by the Income Tax Department, and is the backbone of financial transactions. By using the PAN verification API, personal and business transactions can be easily carried out and monitored. Financial institutions require PAN details to maintain users' accounts, process transactions, and offer various financial services.
The process of verifying PAN through the API follows a few easy steps and can be completed in less than 10 minutes. The business sends an API request to start the PAN verification process. The client captures an image of the PAN card (front only), and the scanned data is converted into machine-readable text using OCR technology. The verification algorithms authenticate the data against standard databases, and if the details match, the PAN verification is completed.
The top three PAN verification APIs for digital onboarding include the
PAN Verification API,
the PAN Extraction API, and
the PAN Extraction & Verification API.

Each API has a different method of acquiring data, producing a response of extracted data against the request as output, and validating the data in the final process to conclude the verification process.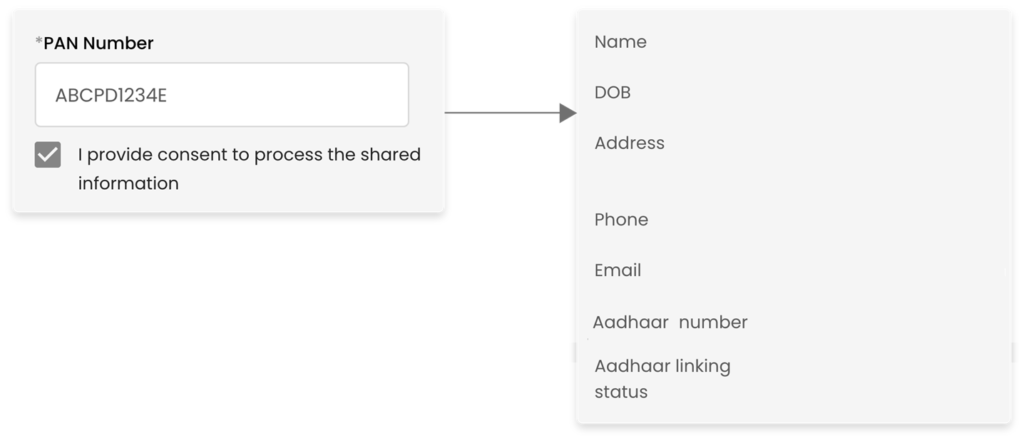 Using the PAN verification API is important for KYC because it can process KYC instantly by acquiring demographic data such as name, father's name, age, gender, DOB, and the unique PAN number, Aadhar Number, which signifies an individual's digital identification along with their financial status and transactional history. This helps determine the customer's economic strength and the risk of onboarding a customer.
Financial institutions face many challenges during KYC verification, such as incomplete or inaccurate data, fraudulent documents, and the cost and time required to complete the process. The PAN verification API provides an effective and efficient solution to these challenges by automating the KYC process, increasing productivity and efficiency, and reducing costs.
Finanvo is a leading provider of APIs that enable businesses to easily verify and fetch Aadhar details based on the PAN number. The API can quickly and accurately fetch information such as Aadhar number, name, address, and other relevant details, helping businesses streamline their operations and reduce the risk of fraudulent activities.
Using Finanvo's API, businesses can instantly verify customer identity, reducing the need for manual intervention and speeding up the process. The API is easy to integrate into existing systems and can be customized to meet specific business requirements. With this API, businesses can also access real-time data, ensuring that they always have the most up-to-date information.
Moreover, Finanvo's API is secure and compliant with all the necessary regulations, ensuring the confidentiality and privacy of customers' personal information. With Finanvo's API, businesses can easily comply with the latest regulations related to customer identity verification.
Finanvo's API is especially beneficial for businesses that deal with financial transactions, as it helps them prevent fraudulent activities and reduces the risk of financial losses. It is also useful for businesses that require identity verification for onboarding new customers, such as telecom companies and online retailers.
In conclusion, using Finanvo's API for Aadhar verification can help businesses simplify and streamline their operations, reduce the risk of fraudulent activities, and ensure compliance with regulations. With its accuracy, speed, and security, Finanvo's API is a reliable solution for any business that requires Aadhar verification. Contact Finanvo today to learn more about how their API can benefit your business.
For More Information :
Contact Details:
www.finanvo.in
[email protected]
+919033024545